Does one wash a finished quilt top? I do not remember doing it with my baby quilt, but it puckers ;-)
Some of the fabrics may be prewashed, some are definitely not.
Just thinking about this to tide me over until I can do some other fun stuff - What batting will I use, what backing (I *want* the Pink Polkadot fabric, yeah! *grins*), binding - a bias tape or my wolf fabric? How should I quilt it? That is probably the hardest part. I have seen some lovely machine quilted pieces with pretty shapes all over, but I also somehow want to *whisper* hand quilt it, to honour the handsewn squares that make up the "Meat" of the blankie. The quilt my mother made me is mostly hand quilted - it is made up of squares and rectangles where each side is 5 cm or multiples thereof,and mostly black-and-white, with musicians, piano keys, notes etc. :-) She quilted notes, C-keys and some other things onto it - it is gorgeous, of course.
So, Handquilting and machine quilting maybe? I could quit little flutterbies all over it.. Or maybe not. Maybe I'll just let my mind flow and imagine, and when the time comes when I will quilt it, I may have *The* idea. Suddenly, the top will speak to me and tell me what it wants to be. (Says she who spent fourhours on the floor arranging squares for a Hourglass Baby Blankie).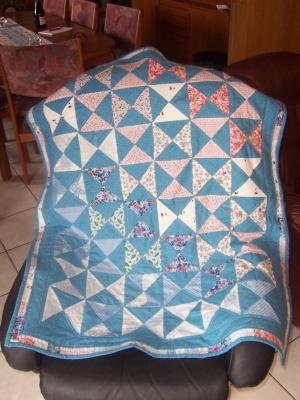 The blue fabric is a heavy cotton with little white flowers. I cut up a lot of fat quarters in pink and blue colours (Actually, the pink ones were for a blankie for my sister that got postponed for so long that it disappeared). I had tried out many different arrangements, but none seemed to work until I put the blue squares in one end and the pink in the other, putting all identical squares tip-to-tip (Instead of trying to arrange them so that none would touch). I had at least two, and in one case 8 identical squares because of the piecing method used.
Have a nice day
/Lene