You learn to appreciate your handknits more and more. At least it is that way for me.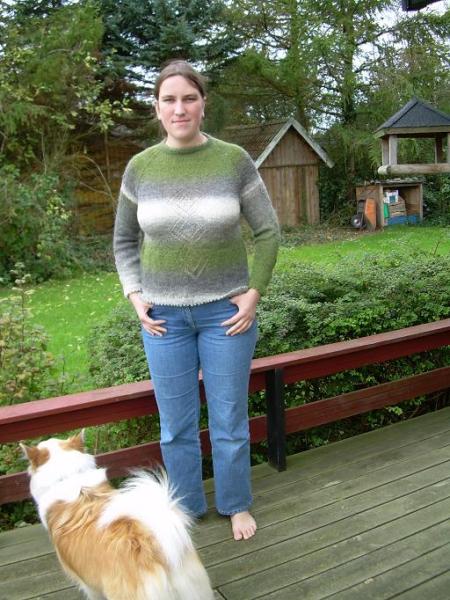 Marianne
This pullover was not a favourite for some time because it always needed a cami underneath, but since I found a few right-coloured ones, it is hard to pry this sweater off my body. It is dressy, classic, unique, and the yarn has gotland-sheep character, meaning that it has a little halo (almost like mohair) and does really well when knitted loosely. It IS knitted loosely (My mother told me I was cheating, lol). It has a clean cut, clean lines and good colour. Nice hems and covers my neck.
So, who should be surprised that I want ANOTHER one? Not exactly like this one, though, as this colour of the particular yarn is not nearly as gotland-sheepy as the green/grey (I suspect the white and grey to be natural colours).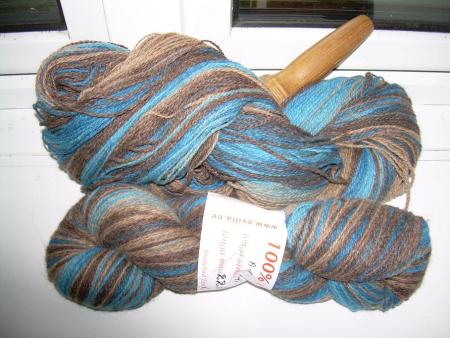 More Evilla Yarn, in a colourway best described as "Summer, Sun and beach"
I found a very simple pattern that should bring out the best of the colour changes and the soft, yet rustic yarn.
From Vermont Fiber Arts
I am not going to buy the pattern, but will try to adapt it for a raglan-in-the-round. Yes, I am so predictable.
Aranmor
I *think* That my second swatch has 17,5 or 18 stitches / 10 inches. If I knit the smallest size (117 cm around) I will probably end up somewhere between the middle (126 cm) and the large (134 cm). I would wastly prefer to end up somewhere between the small and middle, though. I am not so into oversized sweaters (I have plenty), and would prefer one that hangs with just a tiny bit of drape - which it wont if I go further down in needle size. I was not aiming for an armour :-)
First sleeve has been started - and frogged! 51 stitches as per smallest size, 4mm/US6 needles instead of 7 - and yet it had 10 inches /24 cm circumference :-0!! I dont want a sleeve where everyone can peek up and see my bare arms. 8 inches / 20 cm would be OK. Here I go then... Frog and re-cast on... Later.
Have a really nice day
/Lene